NEWS
---
ARCHIVED NEWS
February 2021
A message from Mary:
I would just like to ask you to put a BIG THANK YOU to all our lovely Club Members for all their wonderful messages , cards and phone calls during my 3 weeks in hospital – so many, I cannot reply to all just yet- but I have had so much support from you all and I do thank you.  I know Olivia phoned my daughter as well as writing to me – so much in such a busy life. And a lovely funny cheer me up from Stella and beautiful cards from so many of you, so again a BIG THANK YOU everybody and I hope to join in again when I feel stronger – or after a return trip to hospital when the various 'Teams' have decided on the next course of action.
          With love to you all,           Mary
PRESTIGIOUS DOLLS' HOUSE COLLECTION BEQUEATHED TO PEMBROKESHIRE
A magnificent dolls' house and toy collection rivalling the best on public display in Britain will be given to the people of Pembrokeshire thanks to a special lady, Val Ripley.
Val, aged 93, has generously bequeathed the private collection to Pembrokeshire County Council, which will create a new permanent gallery suite to house it at Scolton Manor, the county museum.
The collection was built up over many years by Val and her late sister Pam, who grew up in Surrey and Sussex together before moving to Newport in later years.
It was inspired by the discovery of a childhood treasure of Val's – a dolls' house called 'The Gables' which her parents gave her for Christmas 1932, when she was eight.
"I'd been hoping for a dolls' house, and I'd been eyeing up a wonderful one in the Harrods catalogue, but it was rather big and I didn't think I'd get it," recalled Val.
"I couldn't believe it on Christmas morning when I saw this huge present waiting for me to open!"
From then on, Val played with the house constantly and saved up her pocket money to furnish it with miniature items, with birthdays and Christmases bringing more tiny gifts from family members.
But in July 1939, Pam and Val's father took a commission in the Royal Artillery and the family house was let. The dolls' house was put into store 'temporarily'. But eight weeks later came the onset of the Second World War and the house remained in store for the duration – and was then forgotten about.
It was only after their mother died in 1977 that Val and Pam found the dolls' house in the attic of their parents' home, perfectly preserved in its original storage crate.
Not only that – they also found their mother's dolls and toys dating back more than a hundred years, and their own childhood treasures.
"Imagine unpacking those!" said Val. "It was a magical moment. And I'm afraid my sister and I were off collecting!"
Over the following years, Pam and Val built up a famous collection of dolls' houses of every period from 1840. Each house is furnished only with items produced at that time, and offer an intriguing glimpse of family life at home.
"We deliberately collected houses from every era," explained Val. "Individually they're not so interesting, but together they present a complete social history from the early Victorian era onwards."
The sisters also sourced miniature toy stables, shops, theatres, and many toys and games – including rare vintage mechanical toys.
In 2010, the sisters opened the collection to the public for the first time at 'Ty Twt' in Market Street, Newport.
"It's quite funny seeing fathers coming in with their children, because you can tell they're not particularly into dolls' houses," said Val. "But by the time they get to the WWI house, they are really interested and telling their children all about the things inside!"
The collection has featured twice on the BBC's Antiques Roadshow and includes treasures such as a miniature dog which once belonged to Margot Fonteyn, and doll dresses given to Val from her childhood friend's father, who happened to be Gone with the Wind star Leslie Howard.
It also features 'St Edwards Junior School', a charming teddy schoolroom created by the sisters when they were children, saving their pocket money to buy the tiny teddies at nine pence each.
Cllr Paul Harries of Newport, who was instrumental in bringing Val together with the Pembrokeshire Museum Service, said the collection was a 'real treasure'.
"This is a wonderful gift for Pembrokeshire, and we are so grateful to Val and her late sister Pam," said Paul, who is also Chairman of Pembrokeshire County Council.
"Together they created a collection of national importance, and we will be honoured to display it one day at Scolton Manor. It will prove a real legacy for them."
 Cait Hilditch, Collections Officer, said they were incredibly appreciative of Val's generosity, and that the collection was fascinating in many ways.
"There's the social history – with its amazing attention to detail throughout – the development of play, the wartime changes, and then there's Val herself and her personal stories," said Catriona.
"It's a fantastic record of the changing styles of the family home."
The creation of a new gallery suite at Scolton Manor will be funded through a Welsh Government grant of £77,500.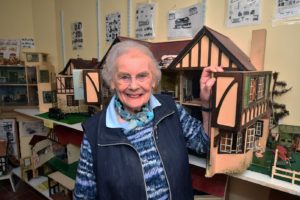 Val Ripley
Pictured is Val Ripley, who built up the prestigious Ty Twt dolls' house and toy collection with her sister Pam over many years. The sisters were frequent visitors to Newport as children – and were evacuated to the town for eight weeks at the outbreak of WWII during the period known as the 'phoney war'.